BELGIAN COMICS

Another month, another topic for the art history-project.

And with this month's topic being Graphics, it's no more than normal that I show some patriotic pride in the amazing comic-artists that Belgium has brought forth (and that you guys probably grew up with!)
Probably the most well-known one, due to the somewhat recent movie-release, these blue little fellas were created by Peyo, a born and raised "Brusselaar".
They were first created in 1957 and initially appeared as a set of side-characters in a comic of
Johan and Peewit
, "
The Flute With The Six Smurfs
". It wasn't until 1958 that they got their own series of comics and later on cartoons and even a movie, but they have been immensely popular ever since.




Also known in Dutch as "Kuifje", due to the way his hair is styled. This strip-series was created by Hergé in 1929 and focuses on the adventures of the protagonist Tintin, a young journalist, his dog Bobbie and his friend, Captain Haddock.
Recently made into a movie, but the strip-series and cartoon has been running ever since 1929.
A fun fact is that the character "Kuifje" is based on one of Hergé's older characters,
Totor
.






Created by Goscinny and Underzo, this is one of the most well-known strip-series that originated in Belgium.
Countless movies, both animated and live-action, have been made about the stories told in these comics and the magic potion in which Obelix fell is a reference all of you will probably know and get.
And while the depicted history isn't 100% accurate, these heroes do speak to the imagination, be it from hunting boars to collecting Roman helmets. And let's not forget the "p-p-p-pirates"!
"Suske & Wiske", "Spike and Suzy", "Bob y Bobette", "Finn och Fiffi", "Anu ja Anti".
If there's one Belgian strip-series that rivals the amount of translations of Asterix, then it's this one.
Initially created by Willy Vandersteen, the current artist who works on the comics is Luc Morjeau. The comic-series celebrated it 60th birthday in 2005 and is most well-known for the use of alliteration in it's titles and for the ending-frame which always is the same, with Wiske standing in a black frame.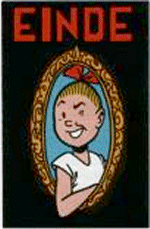 Last but not least is the series centering around a cowboy, Lucky Luke, who can shoot faster than his own shadow. They were created in 1946 by the comic artist Morris. The current artist is Achdé, who took over the series after the death of Morris in 2001.
Probably the most well-known characters out of this series, besides the protagonist himself, are the group of bandits called the Dalton Brothers, who, even though they are the antagonists, also act as comic relief in the series. Other well-known characters include Rataplan, the prison guard-dog and Jolly Jumper, Lucky Luke's horse. This series was also made into a popular cartoon.